My name is Richard Laurin.


I am president and tour director of this, a fully bilingual and dedicated tour company based in the heart of "old Acadie" in Nova Scotia, Canada.


We are located between Port Royal and Grand Pré; one of the richest agricultural and historical valleys in the country.

In the tourism industry, we refer to a "Receptive" tour company as one who specializes in welcoming and coordinating all or partial aspects of a tour program offered to the public.


Usually, guided tours that unfolds in the home area of tour operator. The latter becomes the "host" to the visitor. Although Novacadie is able to carry business at home as well as away, most of our activities take place in Atlantic Canada as you will deduct in the present web pages about our enterprise.



The destination;
a journey to the heart of a continent...



Located at the most easterly portion of continental Canada, this province is known as the "land of many firsts"
but, it must be known that Nova Scotia enjoys an incredible natural history going back to previous ancient continents; Some of the cliffs along the Bay of Fundy, as free and open like sheets in the book of the earth's History, ready to reveal its stories.
Just as fabulous is the human history associated with this land.
It is undoubtedly a place of great hospitality wheremost current citizens scrupulously protect its peace and quality of life. This is good, since so many folks from Canada and the U.S. come back infallibly to find their roots which began right here at one time or other.
Great hospitality being so precious with such a noble design.


Nova Scotia in particular is a "corner stone" of our great Canadian heritage. Along with countless North-Americans, European countries are also increasingly visiting us for a form of connection with the canadian History.


Their forefathers having in multiple cases contributed to the foundation of this country, centuries ago; namely from France, England, Scotland, Germany etc.

They can count on finding a place where nature keeps many secrets unspoiled and where it feels good to "reconnect"... quite easily, way from the frenzy of today's societies.
''All this combines to make it, I confess, a real pleasure to respond to this trend by being a licensed receptive tour operator''

Tours for all
Professional site interpreter for Canadian Heritage for several years, I recognized back in 1997 a pressing need to address a somewhat neglected perspective; specifically, the fascinating French-Acadian dimension to countless visitors who come every year to Atlantic Canada in search of their origins.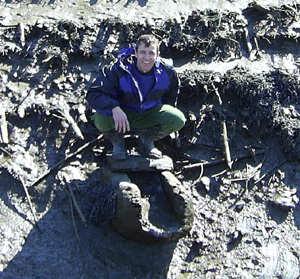 Concerned by the increasing thirst for cultural tourism, (history, genealogy, geology, ecology etc) a growing need generated in a large part by today's internet technology, we have taken upon ourselves to bring pleasure and meaning to the above. Rectify with that essential "joie de vivre" known to "Maritimers", some things that our Canadian History academics seem to have overlooked in that regard in preparing the school curriculum. Certainly, somewhat of a contradiction if we recognize that the overall social and economical harmony of today's societies are conditional to their ability to fully integrate the historical foundation of the ethnic groups, therefore, the multicultural identity that constitute that community in the first place.

Understandably, the notions associated with this cultural tourism perspective cannot be presented properly and/or accurately without starting from the very beginning, in the case of Atlantic Canada, the First Nation or Mi'kmaq. Let it be known, the People or L'nu have been ambassadors, friends and family to "les Acadiens" from the early 1600's on. Their knowledge of the land and the sea, their traditions and philosophy, their acute sense of democracy rich of several thousands of years have much to teach us about today's trends in tourism as mentioned above.

To plunge in this fascinating culture opens our minds and procures a sense of what some may call wholistic well being. -"It is just nice to know" as folks often tell me. (See our "First Nation" section) That is why our interpretative methodology at Novacadie is based on inviting the vacationer/participant to lend an objective look at the original Euro-American actors of this region, one of Canada's very original.
The Acadians:


Years of exploration and research confirm that the early settlers of Acadie had learned to live fully integrated in this environment, thus, adding to it the European outlook and technology of the time; their many "extended family" hamlets are still visible in rural, sometimes remote localities of Nova Scotia. An evident Métis-like culture which bloomed for over 150 years, fashioned their unique communities by countless tidal rivers flowing in the Baie Française later renamed Fundy, throughout the inland as well as all over the 5,000 miles of its coastline.


Over time, it has become obvious to Novacadie that a "learning vacation" concept was to emerge from this approach and that it ought to take place in unspoiled natural environments. Fortunately, this territory still enjoys this "luxury". Some ten years later, we are totally immersed in the History, transferring all our knowledge of the natural and human history of Atlantic Canada into designing and guiding fun and revealing tours. In other words, because these two elements are inseparable one from the other, all tours combine both; "nature and culture" in order to provide a complete picture to the visitor.
Of course, we enjoy the necessary leisure of high quality accommodation, transportation and some of the world's finest seafood delicacies of today's standards, rest assured!


Equally, our tour programs would not be complete if we did not take the guests to the fine urban and country town's environments of our regions which are just as blessed in historic terms by the vibrant societies that have made them what they are today.

Touring from our capital city Halifax to the most picturesque peripheral localities, it enables us to admire many 18th-19th century architecture and outstanding individual and public heritage buildings as we highlight the visions and accomplishments of many famous personalities behind them.


I have passionately acted as the tour director / step on guide for Novacadie since 1996. Accordingly, I attest of the quality of all the tours we organize. Novacadie calls on local guides and experts to momentarily accompany the group tours in order to present with accuracy and unique flavors (language, customs, specialties etc.) some of the "musts" of each region.
There is no "middle man" in the process and most tours are customized, pending on specific themes or, in terms of Acadian perspective; the family names (if available) of the guests we have the pleasure to serve. It is therefore possible to re-trace with enjoyment and extraordinary scenery, some specific locations and progressions of our ancestor's legacy over four hundred years in this region they called "La Cadie; the land of today's Nova Scotia; cradle of that culture worldwide.


We supply the transportation, the accommodation, the meals, all activities (guided or individual) and of course the complete coordination of the tour programs. In all cases, Novacadie is your facilitator and will do all that is possible to make your visit to Atlantic Canada, one you will cherish for ever!




The tours we organize have no boundaries.


They cover all regions of Nova Scotia, the Maritimes and even parts of New England and the province of Québec. Because each tour program is different based on the expectation of the client and because we do not have a strict and heavy overhead to carry on, the duration and content of the tours may vary but the applicable cost per person is always very reasonably priced.


Do not hesitate to contact us so we can provide you with a draft itinerary and all details of the program at no obligations to you.



---



Welcome to Nova Scotia!

Welcome to Mi'kma'ki

Welcome to Acadie!


Richard Laurin
---
---
Wanda Joudry-Finigan is a Cultural Interpreter and former cultural coordinator at the Bear River First Nation in south-west Nova Scotia. For all of us, she incarnates to a certain degree, the memory of a People.


She continues to be a valuable facilitator of Mi`kmaq Culture and Language Workshops within the education system and private sectors.


Very knowledgeable and enthusiastic, Wanda acts as Novacadie's professional guide with most of the tour programs involving a Native / First Nation perspective.


We are privileged to have Wanda in order to serve you even better!


P.S: A CD of traditional and contemporary Mi'kmaq music will be available very soon and posted here.